Convenience of an ATM with the service of a real teller.
BankPlus Interactive Teller Machines combine the convenience of an ATM with the service of a real BankPlus teller. Withdraw and deposit funds just like an ATM. Or cash a check down to the penny just like a teller window. You can talk to a BankPlus banker through a two-way video monitor for extra assistance. ATM functions are available 24/7 and teller service is available 7am-7pm, Monday-Friday and 9am to 1pm on Saturdays.
What is an ITM?
Check out this short video to learn more about all the great features of the BankPlus Interactive Teller Machines (ITMs).
7 to 7 Teller Availability
No more rushing to the bank. Through our network of interactive teller machines you will have access to a BankPlus teller from 7 a.m. to 7 p.m. during the week and 9 a.m. to 1 p.m. on Saturdays.
FIND MY NEAREST ITM
With a BankPlus ITM you can...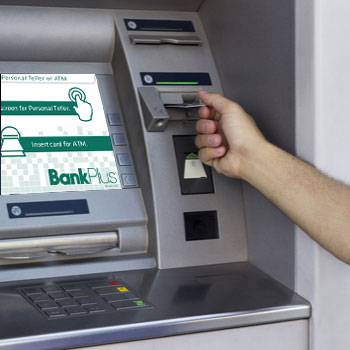 Speak with a live teller
Live tellers are available 7 am to 7 pm Monday through Friday and 9 am to 1 pm Saturday.

Deposit checks and cash
Easily deposit checks and cash with no deposit slips. Simply show your photo I.D. to the teller and you are all set.

Cash checks
Cash checks down to the penny.

Make a loan payment
Make a loan payment by cash, check or transfer from your BankPlus account.

Receive custom cash
Withdraw cash in any denomination you prefer. Need $21 in all ones? Not a problem.

Basic ATM features
Withdraw cash, transfer funds, check balances and more.
FIND YOUR NEAREST BANKPLUS ITM
The BankPlus network of ITMs is steadily growing, making our services more accessible for customers.
FIND MY NEAREST ITM