Checking That Works
Our business checking accounts let you concentrate on what you do best. With our suite of business services, perfect for companies of any size, you can confidently build for the future. Take advantage of our two great offers for customers who open a new Business Checking account.
$100 Cash Bonus*
When you open any new BankPlus Business account and use your Visa® debit card.
Use your BankPlus Visa® debit card during the month you open the account, and you'll earn $25 with two posted and cleared debit card transactions. Earn $75 more with eight additional posted and cleared debit card transactions in the month after account opening.
Every Business Checking Account Includes: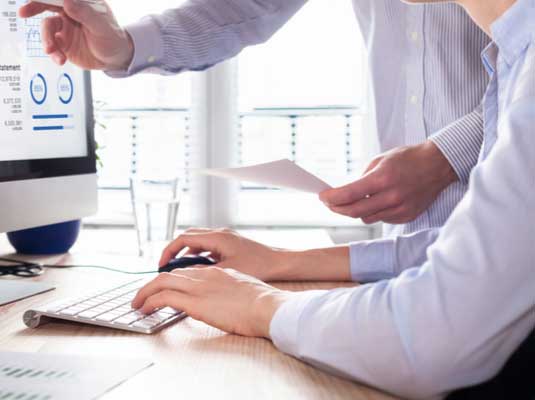 FREE Online Banking**
Get 24/7 access to your account information and a robust set of financial tools.

FREE Bill Pay**
Set up online bill pay and never mail a check again.

FREE Mobile Banking**
Check your account information wherever you are with our mobile banking app.

FREE Mobile Deposit**
Deposit checks as soon as you get them without having to visit a bank branch or pay a fee.

Free BankPlus Visa® Debit Card
Use your free BankPlus Visa® debit card as soon as you leave the bank with instant issue.
$10 Check Buy Back***
Bring in your debit cards and unused checks from your current account at another financial institution. We'll buy them from you for $10!
Open a Business Checking Account Today
BankPlus is committed to helping our business customers grow and succeed. Whether you're an established company looking to change how you approach your banking transactions or a growing company still getting off the ground, we have a product that will work to meet your needs. To open your new business checking account, visit a BankPlus location near you and speak to a banker today.
Find a Location
Minimum opening deposit is only $50. Ask us for details. Bank rules and regulations apply. Other fees such as non-sufficient funds, overdraft fees, etc. may apply. See fee schedule for details.
*To qualify to earn the full $100, you must complete the following: A. To earn the $25 business checking cash bonus, use your BankPlus Business Visa® for 2 debit card transactions (Posted and Cleared) in month of account opening. B. To earn the additional $75 business checking bonus, use your BankPlus Business Visa® for 8 debit card transactions (Posted and Cleared) in the second month of account opening (ATM transactions are excluded). Limit of one $100 bonus per business. $25 bonus and $75 bonus will be credited to the account at end of statement cycle in which transactions were posted and cleared.
** Standard rates and fees from your wireless or Internet provider may apply.
***$10 for checks and debit cards from another financial institution (regardless of quantity) is given at the time the checks/debit cards are presented. Offer available once per business upon establishing an account.