Fast, easy and free.
Viewing your account information and paying your bills online are about to get a lot easier. With BankPlus Online Banking, you can manage your checking, savings or other accounts—all without having to visit a branch. Get 24/7 access to your accounts by enrolling in our free Online Banking service today.
Online banking provides several convenient features to take the hassle out of managing your finances, including: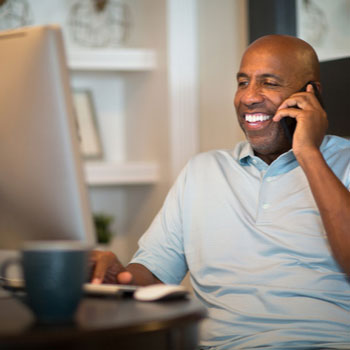 24-Hour Account Access
View a running balance or review account history of your BankPlus checking, savings, and loan accounts via computer or cell phone.

Online Bill Payment
Schedule one-time, future-dated, or recurring payments to virtually anyone in the U.S. anytime.

e-Mail Alerts
Have account updates delivered via e-mail.

Online Statements
Receive your monthly statement online instead of by mail.

Online Check Images
View cleared checks quickly without having to dig through old registers.

Manage Money
Manage your finances using Money Manager within Online Banking. Get a full financial picture all in one place; track and categorize spending, create budgets, set up alerts and more.

Online Fund Transfer
Easily move money within BankPlus accounts.

Apply Online
Open new accounts from within Online Banking using a secure connection.
Online Statements: Less Paper. Greater Convenience. More Security.
*Our FREE online statements offer you the ability to access your monthly statements within online banking. Receive e-mails notifying you when your statement is available. View and print up to three years of statements from one screen. Reduce fraud and identity theft by receiving statements securely online. Enroll in Online Banking today to start receiving online statements, or enroll in our electronic notices platform if you are not an Online Banking user.
Enroll In Online Banking
Enroll in Electronic Notices Platform
*By enrolling in online banking and accepting the authorization, all of your BankPlus accounts for which you are either an individual or joint owner or a custodian will be available for viewing. For account(s) with multiple owners, each individual owner must register separately for access to online banking to view online statements.